Digital transformation is revolutionising the way we live and work; it's opening up a wide range of possibilities for companies, their customers, and their employees. But only if they understand them within the proper context.
In a world where the consumer is king, companies need to up their game. They need to provide superior customer experiences, and they need to do it consistently.
Digital transformation, within the wider context of business transformation, is not a new concept. Disruptive ideas and have been around since the dawn of history, and companies have always sought to adapt. But the sheer pace of change makes digital transformation unique. The possibilities for innovation, scalability, and agility are endless.
Digital transformation is really about using new technology to solve old problems. And companies have always been concerned with delivering exceptional customer value.
It involves every area of the company, not just IT. An enterprise-wide effort is needed to change business and operating models. Vast amounts of data need to be collected to improve outcomes. Organisations that implement digital tools enterprise-wide are twice more successful than organisations that don't (McKinsey).
Blind adherence to business plans no longer delivers. Companies need to be adaptable in the face of unforeseen events. Digital technologies such as Big Data Analytics, Artificial Intelligence (AI), Machine Learning (ML), Internet of Things (IoT) and other technologies enable companies to extract exponential value from vast amounts of customer and economic data.
Digital transformation entails a radical change in culture. A shift away from traditional departmental silos to enterprise-wide collaboration. Technology develops with customer behaviour, and company cultures need to adapt as well.
Unfortunately, it's this cultural change which makes digital transformation difficult; only 20% of business leaders report success.
However, successful digital transformation projects are not impossible. Many companies have done it. In this article, we'll explore what digital transformation is, what drives digital transformation, and what key elements make for a successful deployment.
Making sense of digital transformation
Digital transformation is a complete transformation of the organisation underpinned by digital technologies. It's not digitisation, which are initiatives to digitise legacy systems.
It's a complete re-assessment from the inside out, with an evaluation of how digital technologies improve outcomes for customers and stakeholders. It's a cultural shift that embraces experimentation, challenges assumptions and embraces failure.
It seems certain that digital transformation is critical to the survival of modern companies. Although most companies understand the benefits of digital transformation, it's a challenge to figure out what digital transformation means for them:
Although 87% of business leaders recognise it's a priority, only 40% of organisations have brought it to scale. Whatever the case may be, business leaders agree that digital transformation must place the customer first; a data-driven business model that integrates all areas of the organisation and improves the customer experience.
Why digital transformation matters
According to IDC, direct investment in digital transformation will grow by 15.5% annually between 2020 and 2023, reaching some $6.3tn. And for good reason. Companies realise they need to adapt to fluctuating market conditions with diligence. The coronavirus pandemic showed the need to react to supply chain disruptions quickly.
Amazon was, of course, an early adopter of digital technologies in retail; They understood it's a cost-effective way to give customers what they want; it quickly showed its dominance of the retail sector during the pandemic.
Companies waking up to this reality are finding out they must merge technology with strategy. Big data analytics and other technologies provide companies with mission-critical information to make better decisions.
What drives digital transformation?
Technology is, of course, a key driver of digital transformation initiatives. Companies have been seeking to use technology to mitigate threats for years. Retailers, for example, have sought to enhance their supply chains and logistics in the face of Amazon's dominance.
Digital transformation is, however, about more than technology. It's about transforming cultures and processes. Culture and processes drive outcomes. Outcomes aren't created in a void. Even the most disruptive technologies cannot deliver that.
There are three primary drivers of digital transformation:
Technology
This is hardly surprising. However, the pace of change is quickening. Disruptive technologies like Artificial Intelligence (AI), Internet of Things (IoT), Virtual and Augmented Reality (AR/VR) and Distributed Ledger Technology (DLT) such as Blockchain are driving innovation. Their disruptive potential is further enhanced with the convergence of technologies, such as AI with Big Data Analytics.
Legacy solutions are a limiting factor in the adoption of disruptive technologies because of their inflexibility and heavy technological footprint (databases, architectures). Newer technologies tend to be built around cloud architectures, thus limiting the opportunities available from legacy solutions.
As more legacy systems are replaced, companies can devote more time to implementing these disruptive technologies. Automation helps many organisations reduce their legacy footprint, quickening the pace of digitalisation.
Customer behaviour
With their increasing use of technology, customer expectations have changed. The modern consumer expects to order their goods and services from the comfort of their smartphones or laptops and have them delivered on time.
Digital technologies enable ease of use and convenience. Modern consumers expect personalised customer experiences at every touch point in their buying journey.
Innovation
Transformation implies innovation. Technological innovation is one half of this equation. Cultural innovation is the other. Innovation has always figured at the heart of human and economic challenges. This emphasises that transformation is an enterprise-wide effort.
Digital transformation challenges
According to McKinsey, 70% of large-scale transformation programs don't achieve their objectives. Companies are introducing new ways of working, aiming to drive long-term sustainable value.
Most organisations don't have an issue with the 'why' of digital transformation. Difficulties arise when they try to translate those ideas into actionable items. Causes include:
Ineffective leadership
Lack of employee engagement
Difficulty finding skilled staff
Difficulty proving ROI
Data and privacy concerns
Further, many companies confuse digital transformation with technological transformation, failing to appreciate the business drivers. When the business owns the transformation process, true transformation is possible. This includes people, processes, policies, and technology. It's important that technology supports business objectives.
Another important challenge is managing expectations. The pressure to cut costs and drive efficiencies is causing many business leaders to view digital as the solution to all their problems. Although digitalisation can be the answer to many problems, it's only effective when understood within its proper context.
Key digital transformation roles
Team members who understand your business and digital technologies are essential to the success of your digital transformation initiatives – 70% of business leaders report that the most significant changes occurred when digitally fluent leaders joined their organisation.
Successful teams need a range of experience across several disciplines, and in-depth knowledge in a few. Business, technology and process expertise drive these teams.
Successful teams comprise:
Data architects that understand how to structure large amounts of data to develop Artificial Intelligence (AI) and Machine Learning (ML) algorithms.
Software and cloud engineers that leverage agile software development methodologies such as DevOps to speed the delivery of products and services.
UX designers and writers that take ownership of human-centric design elements and improve the customer experience.
Compliance and digital culture officers that smooth the cultural change process.
Further, the C-suite provides strategic leadership. This includes the Chief Information Officer, Chief Finance Officer, and Chief Digital Officer. Some organisations may also find a role for a Chief Transformation Officer or a Chief Innovation Officer.
Getting started with digital transformation
Digital transformation is unique to your organisation. It follows your individual needs and challenges. There are, however, some common frameworks which successful organisations have followed. These include:
Cultural innovation
Leadership
Employee engagement
Customer focus
Digital technology
Data privacy
Continuous improvement
Cultural innovation
Although it's only to be expected that IT will lead your digital transformation strategy, a successful rollout is a company-wide effort.
Digital transformation requires a change of culture; From a culture of siloed departments to one embracing inter-departmental collaboration and new ways of working.
Thus, IT becomes a profit centre and is expected to generate revenue by improving processes, as well as developing innovative products and services.
Transparency and communication are essential to keep your employees and stakeholders engaged and ready to embrace change. It's important that everyone understands the reasons for change and their individual roles in the future success of the organisation.
Leadership
Resistance to change is natural. But many digital transformation programmes flounder for lack of employee support. We're creatures of habit, we can't help it. People often struggle with change, even if they see the benefit.
During times of upheaval and change, we need strong transformational leadership. A transformational leader is somebody who can make every employee feel secure and valued, who inspires everyone to act in the face of challenges.
As mentioned, cultural change is inevitable. Your leaders need to first assess the current state of your company culture to understand what needs changing. Think about how you can organise your teams so they're prepared for the changes that are coming. At a minimum, your team members must be willing to embrace change.
Employee engagement
Once your organisation has decided on its course of action, it's time to get everyone on board. After all, a transformation program is only as effective as the people it affects. And if your employees aren't on board, your initiative is destined for failure.
Organisations that empower employees to bring their own ideas to the table are 1.4 times more likely to report success. This can be achieved through rapid implementation whilst allowing everyone to learn from their mistakes.
Everyone should be made to feel as part of the solution, rather than part of the problem. Supplying your employees with consumer-grade technologies further empowers them to provide your customers with a top-grade consumer experience.
Customer focus
A customer-focused digital transformation initiative generates economic gains in the 20-50% range of the cost base, according to McKinsey. The most successful companies focus on maximising their customer value. There's only so much you can do with product development. But you can derive more value when you lead your product development with customer needs.
Digital transformation helps you address and mitigate the many issues your customers face. This naturally entails a strong understanding of your customers' needs and gives your transformation strategy a clear path to follow. In fact, be clear about your customer needs even before starting your digital transformation journey.
Personalisation – 84% of customers say being treated like a person, not a number, is very important to winning their business (Salesforce.com). With the increasing pace of digitalisation, customers expect a personalised service along every step of their customer journey.
Capturing and organising accurate customer data is critical. Research the many marketing automation tools available. A well-built marketing technology stack will help you capture, organise and analyse your customer data for better decision-making. More specialised Customer Data Platforms can help you capture customer data from a range of sources and unify them into individual customer profiles.
Content Marketing – Personalisation works hand-in-glove with content. It's personalised content your customers expect from you, online and offline. Online this takes the form of videos, white papers, blog articles, infographics and the like. A solid content marketing plan will help you create and deliver content for every step of your customer's buying journey; from the point they first come into contact with your brand to the point they become customers, and beyond.
Product/Service Delivery – Digital transformation means rethinking how you deliver your products and services; Indeed, even how you develop these products and services. This means revisiting every step of the value creation chain. This also means agile product development and delivery. If you are delivering physical products, you will need to focus on your logistics and supply chain.
Ultimately, your customers expect their products and services delivered where there they need them and on time. Improving your processes and increasing efficiency, while maintaining an exceptional customer experience, improves customer retention and improves the bottom line.
Technology
Clearly, technology has a role to play in your digital transformation project. You've laid the groundwork. Now it's time to roll out. And rolling out a piece of complex technology is, well, technical.
However skilled your team, external technology partners with experience in the technology can help point out blind spots and help you avoid expensive mistakes.
It's a good idea to have every department engage with your partners to ensure the knowledge shared has the most impact, and that everyone is on board with the changes to come.
Companies often implement digital transformation technologies in combination to meet their business objectives. These include Big Data, Artificial Intelligence (AI) and Machine Learning (ML), Augmented Reality (AR), Internet of Things (IoT), Robotics and Blockchain.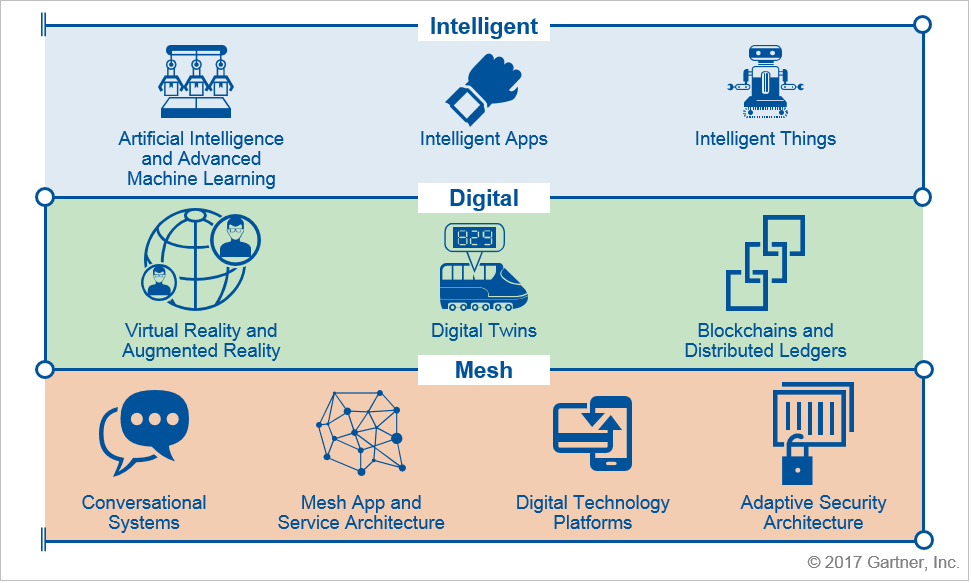 Data privacy
As mentioned earlier, collecting and organising accurate customer data is vital to your digital transformation project. But with 84% of consumers saying they want more privacy over how their data is used, and 48% of consumers saying they stopped buying from a company over privacy concerns, data privacy needs to be at the centre of your digital transformation strategy.
A streamlined data strategy across every area of your organisation is key to your success. Your data will provide vital feedback on your progress; 70% of organisations say they receive significant business benefits from investing in privacy. Your customers take their data seriously, and so should you.
Feedback and monitoring
Digital transformation is a journey, not a destination. Its goal is to streamline workflows and processes for employees and stakeholders, and improve the customer experience. In that regard, feedback from your employees and customers is vital.
Employees act as internal customers. They can provide feedback on how the digital transformation is being received both within and without the organisation. Happier employees likely make happier customers.
Feedback from your external customers is equally valuable, but they cannot provide a perspective on your internal processes. They can only experience their effects from the outside.
Conclusion
Digital transformation is a vast subject covering every aspect of your organisation's culture and processes. Even defining digital transformation is an enormous challenge. Different organisations have their own definitions, even within the same organisation. But one thing's for certain. It is more than a transformation in technology, it's a cultural transformation which is happening within corporate organisations and society at large. As digital transformation gathers pace, we should all begin to see tangible benefits in our lives at home and at work.
William Alldred is the editor of IMPELLIUM.PRESS. He's a Freelance B2B Copywriter who writes content and leadgen copy for B2B Software Companies.