Digital technologies are levelling the playing field in every vertical. For businesses that want to remain competitive, differentiation is leaning more and more towards the digital customer experience. It doesn't matter anymore that you are a large retailer or a one shop enterprise. Your customer expects to order their goods conveniently, from the comfort of their laptops and smartphones, and have them delivered to their doorstep on time.
Digital transformation offers organisations of all sizes a unique opportunity to engage the modern consumer wherever they happen to be, be it online, offline, at home, in the office or on social media.
Despite the many promises of digital transformation, questions still remain: What exactly is digital transformation? And how do we go about implementing it?
Disruptive technologies like Artificial Intelligence (AI), Machine Learning (ML) and Internet of Things (IoT) have raised the bar high for companies, and consumers expect more from their brands – 32% of consumers say they would walk away from a brand after just a single bad experience.
However attractive digital transformation is as a buzzword, the first challenge for brands is to figure out what it means for them and their customers. It may mean more apps in the cloud for some, big data analytics for others or just plain working electronically instead of paper.
Whatever the case may be, surely it makes sense to start with understanding who the customer is and what they want to achieve. We'll then outline 3 ways digital transformation is driving the customer experience.
Understanding the digital customer
The proliferation of apps and mobile devices has woken the modern consumer to the possibilities of using digital technologies. Modern consumers have become so invested in technology they increasingly judge brands based purely on their digital customer experiences. They demand meaningful interactions based on their personal choices and behaviours. They expect personalised content based on their interests.
A fundamental change of mind-set focusing on the customer, along with operational and IT improvements, can generate a 20 to 30 percent uplift in customer satisfaction, a 10 to 20 percent improvement in employee satisfaction, and economic gains ranging from 20 to 50 percent of the cost base addressed in the various journeys (McKinsey)
By and large, brands are following suit and adapting their operating models to embrace these new realities. Businesses responding to customer demands is, of course, nothing new. But the pace of change is quickening. Businesses are scrambling to extract value from the huge volumes of data available to them.
Improved internal processes
Delivering a better customer experience through digital transformation is not a job just for the front office. It's the responsibility of the whole organisation to deliver on that promise. Ultimately, every department should aim to work towards providing a frictionless customer experience. The most successful organisations mandate cross-functional collaboration.
As far as your customers are concerned, you are one organisation. They expect their concerns to be addressed by customer service and shared with the entire team.
The challenge is organisations often operate in silos, and it can be challenging to collaborate effectively across departments. True to form, digital technologies are the solution to that challenge.
This often entails:
Automating manual processes
Eliminating unnecessary processes
Evaluating how different teams work
All this is done with a view to improving and speeding up internal workflows. And customers benefit in two ways:
Customer issues get shared more quickly between departments
Customer issues are addressed at the root
Digital technologies help brands deliver a consistent customer experience in all their interactions.
Personalised customer experiences
75% of consumers are more likely to buy from brands that recognise them by name, recommend them products based on purchase history or remember their purchase history.
The digital consumer expects to be treated as an individual. This is why it's critical for companies to collect extensive customer data, without which personalising the customer experience is impossible. In fact, 80% of consumers are happy for brands to collect their data, as long as they're transparent about how they collect that data, and as long as they remain in control of their data.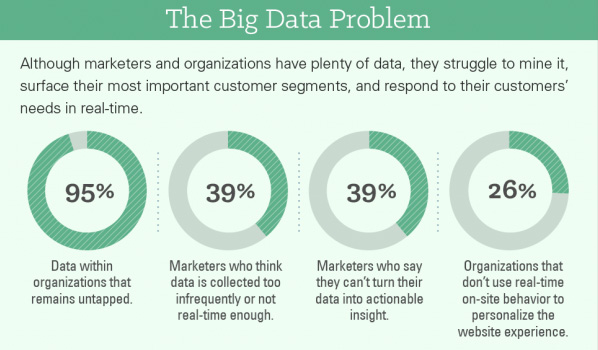 Consumers expect their brands to be fully aware of their preferences based on previous interactions.
A Customer Relationship Management (CRM) tool is a natural place to start. It's an efficient way to gather and share customer information across the organisation. Organisations can analyse data based on previous interactions, such as quotes and support requests.
They can also create targeted advertising and messaging based on this. Digital technologies help them extract and derive value from their customer data.
Personalised customer journeys
Today's consumer isn't tied to a single channel of communication. They browse from their smartphones, ask questions in-store, complete their purchases from their laptops and provide feedback on social media; 83% of consumers say they want to switch between channels when interacting with a brand yet only 50% of companies support cross channel interactions.
To add to the difficulty, consumers expect their brands to know their details, across all their channels. They don't expect to repeat themselves at every interaction, and they expect to be presented with pre-filled information.
A Digital Experience Platform (DXP) empowers brands to reach out to their customers on different devices and channels, providing a seamless multichannel experience.
Brands may also introduce trigger-based email automation that delivers messages to their customers based on where they are in their customer journey. Specifically paying attention to which channels they arrive from and what content they consume.
When brands choose to communicate through new digital channels, they should also make sure their customers are aware.
Key takeaway
Digital transformation is a work in progress. These are only a few of the customer experience benefits brands can expect to see from their digital transformation initiatives.
Customer expectations have evolved. And this new normal demands efficient processes from brands. Ultimately, brands and their consumers can only benefit, and they will derive exponential value from digital transformation for years to come.
William Alldred is the editor of Impellium Blog. He is an AWAI Certified Copywriter specialising in content marketing and lead generation for B2B Software Companies.